You know, that root thing that tastes like water and is crunchy? The other day I ate a $12 salad with this interesting root. According to wikipedia: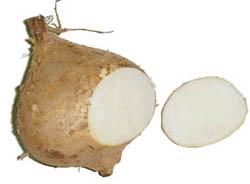 In contrast to the root, the remainder of the jícama plant is very poisonous; the seeds contain the toxin rotenone, which is used to poison insects and fish.


What I would like to know is, who is poisoning fish and insects? It sounds deliberate to me. The plant comes from Mexico and Central America. It's basically tasteless, but one cup does provide nearly 25% of ones daily allowance of dietary fiber (think: the diarrhea if you eat enough). I don't think that I would willingly eat this thing again. It's boring. If only it tasted like bacon....yum...